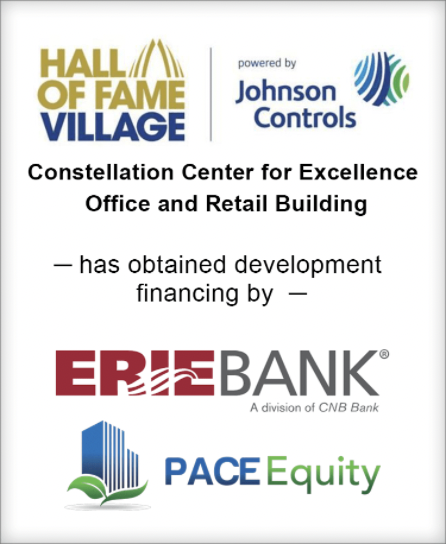 The Hall of Fame Resort & Entertainment Company (HOFV) is a leading sports, entertainment, and media enterprise headquartered in Canton, Ohio. The financial closing for the Constellation Center for Excellence significantly reduces the cost of capital for HOFV and is a key step to effectuate the larger $300+ million Phase II development that is underway at the Hall of Fame Village powered by Johnson Controls. The development financing consisted of: senior construction debt with ERIEBANK, Property Assessed Clean Energy financing with PACE Equity, and sponsor equity.
"We continue to be grateful for the partnership and support provided by BGL, PACE Equity, and ERIEBANK, and are excited to share progress and execution on the construction front with our community, the region and all of our shareholders as a result of our great work together," shared Michael Crawford, President & CEO of the Hall of Fame Resort & Entertainment Company.
"Having worked with BGL on multiple transactions, they are able to get ahead of complex issues quickly and bring resolutions to the closing team. They are a great partner to work with and we value their creativity, resilience, and transparency," commented Beau Engman, PACE Equity Founder & President.
For more information, visit https://www.bglco.com/press-release/bgl-real-estate-advisors-completes-financing-for-the-hall-of-fame-village-office-component/