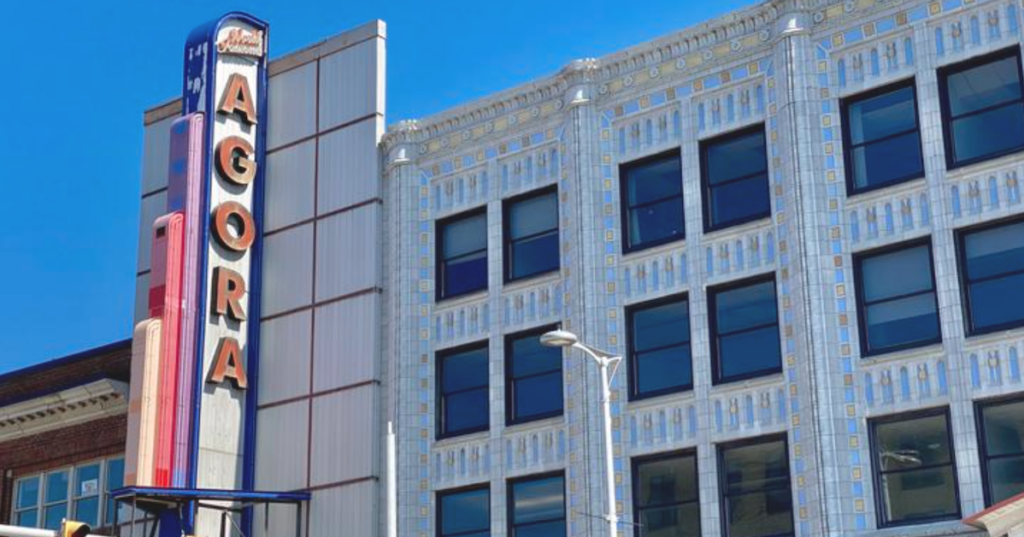 A $15.5 million redevelopment project at the historic Agora Theatre and Ballroom complex in Cleveland's MidTown neighborhood has qualified for a new type of low-interest financing based on its future energy efficiency.
The buildings that once housed portions of the former WHK Studio One and a recording studio were acquired by Hungary-based Sabor Group and Geauga County developer Renew Partners LLC in January 2021 for $1.7 million.
Renew Partners, which focuses on the development and adaptive reuse of historic buildings in Northeast Ohio, and Sabor Group USA broke ground in early September on their project to redevelop the office building adjacent to the Agora Theatre as 48 market-rate apartments and 21,000 square feet of office and restaurant space.
The project, which already has been approved for some Ohio historic preservation tax credits, is the first in the United States to win CIRRUS Low Carbon financing from PACE Equity LLC, the financing company in Milwaukee, said Tricia Baker, PACE's senior vice president of strategy and impact.
The interest rate on the CIRRUS financing is half a percentage point lower than for conventional development financing, Baker said.
Why discount this interest rate? Because PACE Equity, which specializes in financing energy-efficient building projects, identified an investment source that wants to push the U.S. building stock to higher levels of efficiency, Baker said.
A 2022 study by JLL Research found that owners of green-certified buildings benefit from a 6% rental premium and can expect higher occupancy rates, PACE Equity said in a statement.
"This is a way for us to make a tangible difference and overcome an objection a developer might have" to the additional cost of using energy-efficient design to their project, Baker said.
"In order to qualify for that rate, you need to meet a design specification that we put together with the New Buildings Institute," Baker added.
The design specification requires energy-efficiency upgrades that will significantly reduce carbon emissions, she said.
Portland, Oregon-based New Buildings Institute, which will certify the Agora project for the CIRRUS financing, also will provide technical support to the developers, PACE Equity said.
"The CIRRUS Low Carbon specification was clear and achievable, and the lower rate made CIRRUS absolutely the right thing to do," said Shawn Neece, a Renew Partners principal, in PACE Equity's statement.
Story posted, Oct 19, 2022 by Cleveland Business Journal Staff Reporter, Mary Vanac