PACE Equity Finances Renewable Improvements:
Commercial property owners, managers and developers continually look for ways to increase property values, reduce operating expenses AND improve IRR. By investing in a renewable energy solar photovoltaic system, you can achieve these goals AND make a double-digit return on your investment while also improving energy efficiency, conserving water, reducing carbon emissions, and improving resiliency & preparedness. It is a WIN-WIN-WIN!
Here's how:
The average commercial building spends $2.10 per square foot on electric costs every year. By installing a solar photovoltaic system that can offset the entire electric need, a 50,000 square foot building would save as much as $105,000 per year.
A solar system can offset all or part of a facility's electric use, driving down operating expenses which raises NOI. In our example, a 5% capitalization rate on a 50,000 square foot building could add $1 million to the value of the property. In addition, utilizing the government incentives the owner can benefit from the Investment Tax Credit and the MACRS credit. Using a standard 26% tax credit in year one and a five-year depreciation of the system installation (MACRS) with no upfront costs, a building owner can realize a significant tax benefit at no expense as well as an improved pretax cashflow with reduced electrical costs.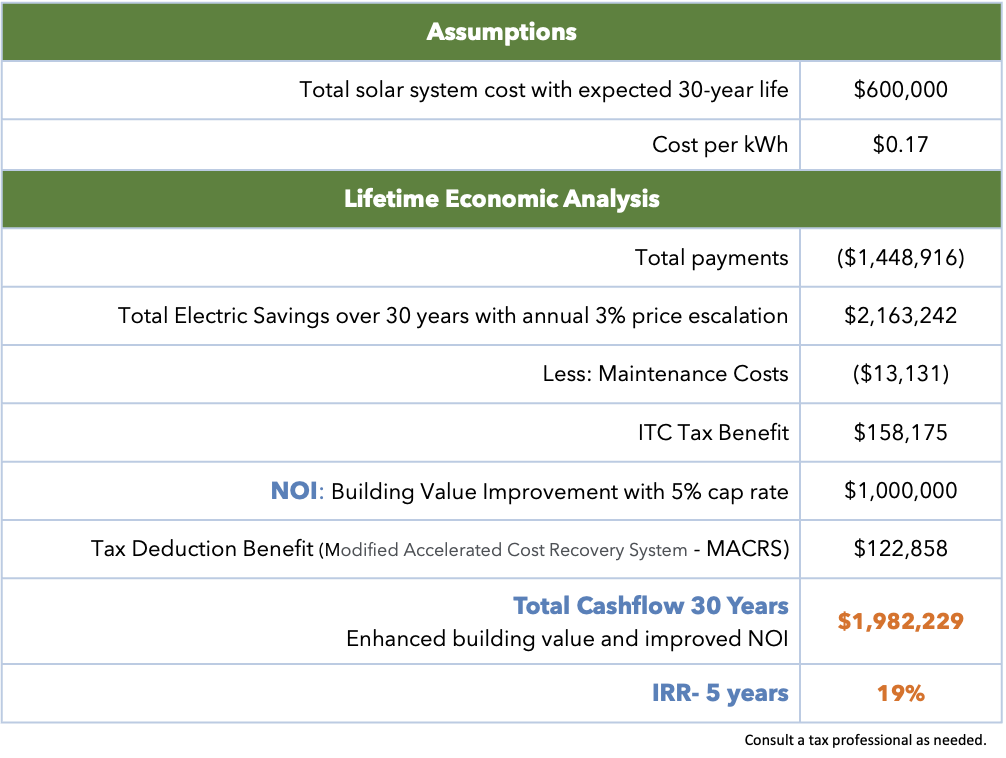 With the increase in NOI, the ITC tax credit and MACRS tax deduction benefit from accelerated depreciation, a solar system can be a benefit – really! Today, the installation of a solar system offers outstanding economics while also creating a path to zero carbon emissions for your building or business. And PACE Equity can help you finance it.
How can we pay for solar investments?
PACE Equity Fast Track™ Funding can be used to cover 100% of the costs of the solar system (and an emergency backup system if you include battery storage) with non-recourse, long-term (20-30 years), fixed rates, low-cost, 'pre-pay anytime' financing… PLUS with PACE Equity financing you get to keep the tax credits as well as the MACRS depreciation.
There has never been a better time to take advantage of PACE Equity financing and invest in solar for your commercial real estate portfolio:
lowest ever cost of solar
high available tax credits and depreciation
low rates for PACE Equity financing
highest cost of electricity (and rising).
Learn more about C-PACE financing from PACE Equity.
Ask your local Managing Director more about solar improvements. Let's get started today to lower your expenses and increase your NOI.