I recently spoke at the 2018 Rhode Island Infrastructure Summit on the important topic of Accelerating Clean Energy Projects on Brownfield Properties. Brownfield sites have been gaining traction as federal and local governments work to transform these properties from environmental challenges to positive producers for local economies. Accelerating their remediation using PACE Equity funding is where my expertise lies.
Commercial PACE, also known as C-PACE, is innovative financing available from PACE Equity to build new developments, renovate existing buildings, or redevelop brownfield sites. PACE Equity financing is uniquely positioned to work with complex capital stacks, which is particularly important with brownfield sites. Using PACE Equity's capital, owners and developers are able to add to or replace more expensive capital in their stack while generating better returns for brownfield projects or close a funding gap in their project. Here's how.
Brownfield Basics
The United States EPA National Brownfields Program was started in 1995, and has since evolved into a collaborative effort between many federal, state, and local municipalities to revitalize locations that require significant environmental clean-up. It is estimated that there are at least 450,000 brownfield sites in the United States.
Many of these locations are eligible for clean-up grants, but the projects themselves can be expensive to undertake. However, the cost-prohibitive nature of brownfields is only one hurdle. There can be local sensitivity to re-using the land because of environmental and contamination concerns. For these reasons, many lenders are hesitant to finance brownfield developments.
But there are also a number of positive reasons for expanding, redeveloping, or reusing brownfield sites, including:
increasing local tax bases
facilitating job growth
utilizing existing infrastructure
taking development pressures off of undeveloped, open land
improving and protecting the environment
In 2002, the Small Business Liability Relief and Brownfields Revitalization Act ("the Brownfields law") was signed and grants were expanded to include funding for assessment, cleanup, and job training. With these additional resources, many owners and developers are considering brownfields anew. And PACE Equity pioneered the use of PACE funding for brownfield sites, so owners and developers who need help navigating the complexities of brownfields can use PACE Equity to help the process go smoothly.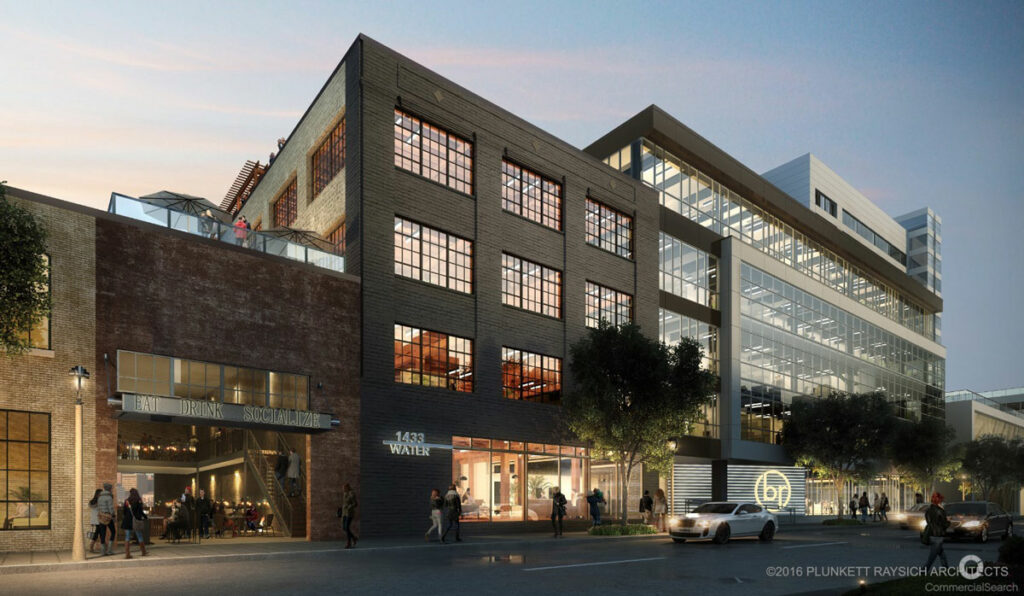 The First Brownfield Project to Use PACE Equity Funding
PACE Equity pioneered the use of C-PACE for brownfield projects in 2016 with a 110,000 SF Class A new construction project and partial adaptive reuse office building housing Bader Rutter's headquarters. The project was also the first new construction office building project in the United States, and represented an over $30,000,000 investment to a former brownfield manufacturing site.
PACE Equity worked with the other financial partners in the complex capital stack for remediation and development, including:
New Market Tax Credits
A City of Milwaukee TIF
A loan from the Milwaukee Economic Development Corporation
A brownfield grant
Mortgage financing from Tri-City National Bank
Working with other sources of financing is a particular expertise of our team. Our team is skilled at working with other financial sources to help our clients execute these complex projects and complete their capital stack. Brownfield sites are no exception.
We funded a number of building improvements for the Bader Rutter headquarters project, including geothermal, PV solar, LED lighting and double pane windows. 7% of the total cost of the project was funded by PACE Equity.
How PACE Equity Works with Brownfields
Brownfield developers are challenged with finding grants for clean-up and remediation, funding sources for expansion or redevelopment, and face additional scrutiny from local municipalities for their projects.
PACE Equity has experience navigating finance sources, local governments, communities, and institutional assessments to fill a financing gap and ensure the project has the funding in place to get the brownfield remediated and project off the ground. We're comfortable working with brownfield sites despite the extra complexities, because our goal is to make sustainable redevelopment happen.
While brownfield remediation and development can be challenging, our proven process can help you work with any financing sources in a complex capital stack to add PACE Equity funding. And, we've got the experience to get it done together.