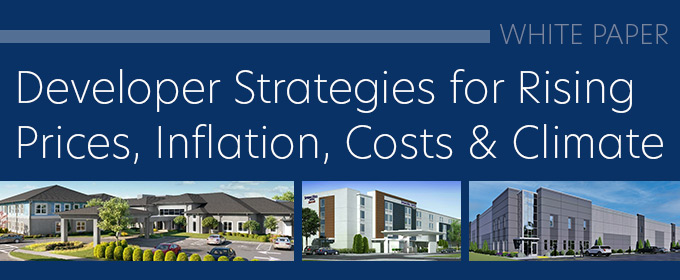 The Business of Developing Buildings
Owning and operating a business requires building a strategy for resiliency and growth. Your employees, investors and customers rely on your business to deliver projects that are well-designed, profitable, and positioned for the future.
Strategies built in the last quarter of 2021 to guide a business in 2022 considered immediate impacts of a waning pandemic, supply chain/product delivery timing, labor shortages, and high construction material costs. You may also have been considering the impacts of climate change, tenant demands, shifting building codes, and continued access to affordable capital. While these short-term items are all still pertinent in 2022, it may be time to revisit your strategy to take in account recent shifts in the market.
What You Need to Consider Now
Over the past few months, things have changed significantly in the commercial real estate business. This "new" list of economic concerns are top-of-mind for your customers and investors.
Volatile/rising interest rates
Inflation and rising prices
Oil/gas prices rising
Climate change and obvious impacts (wildfires, storms, flooding)
What do those challenges mean for the commercial real estate market – now and in the longer-term? Which of those challenges will drive a change in the way you do business?
Download the white paper to keep reading.